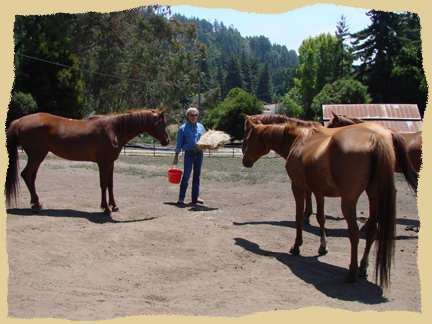 Positive Reinforcement Horse Training Clinics

Horsemanship & Horse Training From The Horse's Point Of View
Clinicians: Evelyn B. Hanggi, M.S., Ph.D. and Jerry Ingersoll
Are you interested in horse training clinics? The Equine Research Foundation offers clinics in positive reinforcement and will come to you if you are located within the western states.

During our positive reinforcement horse training clinics, we focus on foundation training, bonding, and horsemanship using positive reinforcement, equine cognition (thinking and learning), behavior, and social interactions. This type of horse training is an excellent complement to other training methods.
Imagine a world where all horses stand quietly for farriers and veterinarians, where they wait politely for hay and grain, where they lower their heads and open their mouths for bridling, where they calmly get in and out of trailers, and where they respond lightly and willingly under saddle as well as on the ground. Sounds ideal, doesn't it?

Now imagine yourself as horse trainer and picture how you would go about teaching all of these behaviors. Would you use traditional methods that involve force or pressure, pulling, poking, and prodding? Or would you rather achieve stellar responses through a human/horse partnership based on strong bonds and positive interactions?

If you voted for the second choice then you have taken your first step toward learning about operant conditioning with positive reinforcement. Under operant conditioning, an animal learns to change its environment by operating on it. This comes about through positive or negative reinforcement; the latter still today a horse-training standard. Through negative reinforcement a horse performs an action in order to avoid something unpleasant, such as moving away from pressure. As riders, we know that this method works - we use it whenever we ask for a leg yield or a response to rein cues. Skilled horsepeople refine these cues so that they become almost imperceptible to observers and the horse's performance appears effortless. Nonetheless, this procedure involves some degree of pulling or pushing, sometimes much worse, and many horses do only enough to get by.

With positive reinforcement (PR), a horse learns to perform an action in order to receive something he desires, such as food, stroking, or praise. In PR training, the horse becomes an active participant, eagerly seeking the right answer. Dull horses brighten, sour horses turn sweet, and the underachiever suddenly moves to the head of the class. ~ excerpt from Perfect Manners by Dr. Evelyn B. Hanggi

The Benefits Of Positive Reinforcement Training
Our positive reinforcement horse training clinics help you develop a solid understanding of what makes your horse tick and how to use this information to develop unbelievable bonds, solve problems, and train all sorts of behaviors – from useful to just plain fun.
Your horse will learn to:
Respect you and your space
Enthusiastically do what you want
Want to be with you, anytime, anywhere
Remain calm in stressful situations
Do away with unwanted behavior
Overcome fear and resistance
Become safer to be around
Be the horse you always hoped for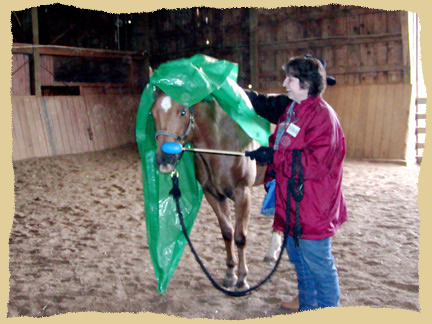 Horse training clinics span three days and all training is done from the ground only. Why just groundwork in the beginning? Because establishing excellent relationships and training behaviors from the ground first makes the transfer to the saddle that much easier. Moreover, much of what we need to do with horses is on the ground and perfect ground manners are the key to safety for both horse and human.
In a calm, relaxed, fun atmosphere, we teach you to teach your horse and once you understand the principles behind the practice you will be able to use this knowledge at any time and with any horse.
Origin of Equine Research Foundation Methods
Using methods derived from our more than 25 years of scientific research into equine learning abilities, 10 years of previous cognition research with marine mammals, 10 years of studying Mustang behavior in the wild, as well as a lifetime of being with horses, we have developed a highly effective, gentle horse training system based on positive reinforcement (our version of clicker training), natural behavior, and a deep understanding of how horses think and learn.
These methods create horses that are eager to learn and unlock their abilities of learning to learn. Just about any horse responds well and the lessons learned are retained for life.
Horse Training Clinics Scheduling
We do our horse training clinics by invitation, not by advanced scheduling. This means that if you would like to host or organize a clinic in your area we would be happy to come. In exchange for a free position in the clinic, you would find a suitable location and sign up a group of friends, neighbors, and other forward-thinking horse people.
We accept a minimum of 12 participants and a maximum of 15. Why limit it to only 15 when other clinicians have 30 or 40 horses and riders in an arena? Because, with positive reinforcement instruction, we want to make sure we can give enough individual attention to each participant and that's impossible to do with large groups.
Any number of auditors are welcome.
Please contact us if setting up a positive reinforcement horse training clinic interests you. We will provide you with our promotional material including flyers, sign-up forms and questionnaires for participants.
Please note that our horse training clinics are not for colt starting.
Positive Reinforcement Training Tools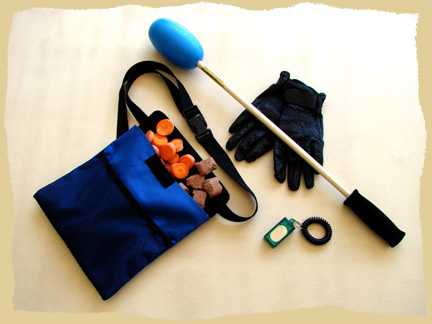 The Equine Research Foundation positive reinforcement training tools are simple: a closeable belted pouch with outside pocket, a handheld target, a clicker with wrist coil for initial training, a stationary target (not shown), thin leather gloves, and food that horses like. And one more thing! A thorough understanding of the principles behind the practice of training with positive reinforcement and how to use food reinforcement properly.
The training tool starter kit (belted pouch, handheld target, clicker with wrist coil, and copies of our positive reinforcement articles - "Think . . . and Train . . . Positively!" and "Incredible, Edible Rewards") is currently only available to clinic participants. Please contact us or check back in the future to find out when kits will be available to nonparticipants.
Read About Us And See More Photos
Our positive reinforcement horse training methods and research findings have been published in scientific journals and national and international horse magazines, including the October and November 2006 issues of John Lyon's Perfect Horse. Our research and training techniques have also been featured in lecture and video presentations at the 2005 Convention for the American Association of Equine Practitioners (AAEP).
Please see our horsemanship pictures page for an overview of our training methods and off-site horse training clinics plus see what people say about us.
Copyright Notice: All literature and photographs on this website are the exclusive property of the Equine Research Foundation or the scientific journals in which articles appear. The literature and photographs may not be downloaded or reproduced, copied, used or altered in any way without the written permission of the Equine Research Foundation.